(Review) The Hate U Give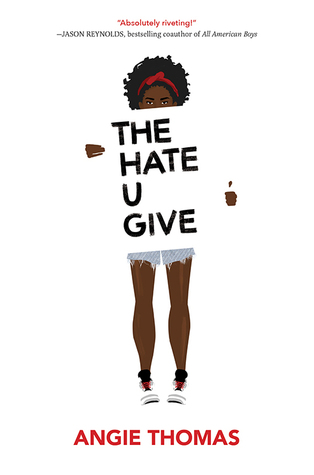 The Hate U Give by Angie Thomas
Publication Date: February 28th, 2017
Pages: 444 (Hardcover)
Genre: Young Adult
My Goodreads Rating: 4 Stars
Goodreads Synopsis:
Sixteen-year-old Starr Carter moves between two worlds: the poor neighborhood where she lives and the fancy suburban prep school she attends. The uneasy balance between these worlds is shattered when Starr witnesses the fatal shooting of her childhood best friend Khalil at the hands of a police officer. Khalil was unarmed.
Soon afterward, his death is a national headline. Some are calling him a thug, maybe even a drug dealer and a gangbanger. Protesters are taking to the streets in Khalil's name. Some cops and the local drug lord try to intimidate Starr and her family. What everyone wants to know is: what really went down that night? And the only person alive who can answer that is Starr.
But what Starr does or does not say could upend her community. It could also endanger her life.
My Review
:
I always have a problem with overly hyped books because, well, I usually hate them. That was definitely not the case with
THUG
.
I'm actually sitting here struggling as to how to write this review. As a 30-something white woman, I don't always know what to say and how to say it. Truth is this: this book was hard to read, but should be read.
It touches on things that are happening right now in our country and it's important. It's important to see that there are so many people involved and so many people trying to make a difference.

Starr is a pretty normal sixteen-year-old girl who sees her best friend killed by a cop. What happens after that is a nightmare for her and her family. There's the media, the cops, and the gangbangers in her neighborhood. It seems like everyone is out for something and Starr is struggling to keep her lives separated.

When her worlds do collide, it's not in a terrible way. I think that Starr is surprised by how her friends from school back her up. Same with her family and friends. She gets so much reassurance from those around her and it helps her find her voice.

In doing that, Starr is able to stand up for the injustice that she's witnessed in Khalil's death. Not only that, but she inspires others to do the same in the long run. Their neighborhood stands up for those around them, that need help and can't ask for it. They pull together and it's a beautiful thing.

I loved this book because it doesn't shy away from the truth. It lets you know that your voice is important even when you think it's not. People are listening.