(Review) Click'd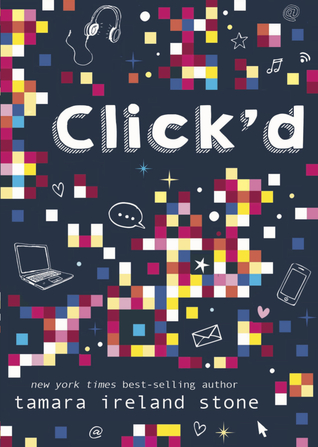 Click'd by Tamara Ireland Stone
Publication Date: September 7th, 2017
Pages: 208 (Hardcover)
Genre: Middle Grade
My Goodreads Rating: 3.5 Stars
Goodreads Synopsis:
Allie Navarro can't wait to show her best friends the app she built at CodeGirls summer camp. CLICK'D pairs users based on common interests and sends them on a fun (and occasionally rule-breaking) scavenger hunt to find each other. And it's a hit. By the second day of school, everyone is talking about CLICK'D.
Watching her app go viral is amazing. Leaderboards are filling up! Everyone's making new friends. And with all the data Allie is collecting, she has an even better shot at beating her archenemy, Nathan, at the upcoming youth coding competition. But when Allie discovers a glitch that threatens to expose everyone's secrets, she has to figure out how to make things right, even if that means sharing the computer lab with Nathan. Can Allie fix her app, stop it from doing any more damage, and win back the friends it hurt-all before she steps on stage to present CLICK'D to the judges?
New York Times best-selling author Tamara Ireland Stone combines friendship, coding, and lots of popcorn in her fun and empowering middle-grade debut.
My Review:
I was actually lucky enough to win (!!!) a signed copy of CLICK'D as well as some of Tamara's other books. This is a huge deal because I actually never win anything. Yay, me!

As a teacher, I try to read a lot of Middle Grade to be able to rec to students I know and love. I was already excited about this one because I love Tamara's words.

Allie is such a fun character. She's a typical preteen girl who just happens to be a coding genius. (I have no idea about coding, so I assume she's a genius at it.) Allie creates an app that helps you make friends and the premise of it is super cute.

Until her app goes a little berserk before the final competition and she needs help fixing it. I loved how this followed Allie through her hardships and frustrations. She tried to hard to do it all on her own, but that just didn't work for her.

It was fun to see Allie grow and realize that she needed help. That fact that she asked her arch nemesis to help her definitely shows how much she changes as a character.

All of these characters are cute and fun in their own way. I loved getting know all of them and reading about strong, young, female characters was definitely inspiring. I think young girls all around will love this one.

Congrats to Tamara on her first MG book!