(Review) Everything We Left Behind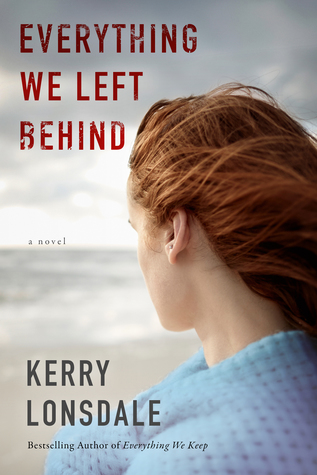 Everything We Left Behind by Kerry Lonsdale
Publication Date: July 4, 2017
Pages: 350 (kindle)
Genre: Adult Fiction
My Goodreads Rating: 4 Stars
Goodreads Synopsis:
Two months before his wedding, financial executive James Donato chased his trade-laundering brother Phil to Mexico, only to be lost at sea and presumed dead. Six and a half years later, he emerges from a dissociative fugue state to find he's been living in Oaxaca as artist Carlos Dominguez, widower and father of two sons, with his sister-in-law Natalya Hayes, a retired professional surfer, helping to keep his life afloat. But his fiancée, Aimee Tierney, the love of his life, has moved on. She's married and has a child of her own.
Devastated, James and his sons return to California. But Phil is scheduled for release from prison, and he's determined to find James, who witnessed something in Mexico that could land Phil back in confinement. Under mounting family pressure, James flees with his sons to Kauai, seeking refuge with Natalya. As James begins to unravel the mystery of his fractured identity, danger is never far behind, and Natalya may be the only person he can trust.
(This book is the sequel to Everything We Keep.)
My Review:
I was really excited to get to read this after I read Everything We Keep and was looking forward to hear from James/Carlos, even if I was a little bit worried. I liked how things ended with Aimee and Ian in the first book and was worried that James remembering who he was would mess that up.
When we meet James (for the first time, really) he's trying to pick up his old life where it left off. Only now he has two sons and his fiancee is married to another man. Oh, and his brother who allegedly tried to kill him is getting out of prison soon.
That's not complicated or anything.
Despite these things, this story flows very well. It's told in both James' and Carlos' points of view and, while they are the same person, they are still very different. I loved reading about both men's feelings and ideas about their family and their lives, as well as the safety of their sons.
I'll admit to being a little annoyed at James for about half of the book, but as he learned more and interacted with his sons more he definitely grew on me. It was great to see how James grew and changed throughout the book and how he was the one who brought everyone together. Even his relationship with Natalya was smooth and lovely to read. I actually enjoyed this book more than the first one and loved reading about James' struggles and triumphs.
Thanks to NetGalley and Lake Union Publishing for the ARC.