(Review) Ready to Run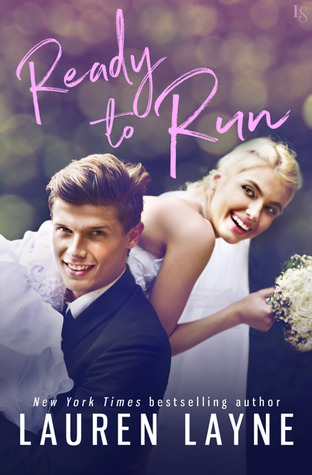 Ready to Run by Lauren Layne
Publication Date: August 22, 2017
Pages: 175 (ebook)
Genre: Contemporary Romance
My Goodreads Rating: 3 Stars

Goodreads Synopsis:
Jordan Carpenter thinks she's finally found the perfect candidate for Jilted, a new dating show about runaway grooms: Luke Elliott, a playboy firefighter who's left not one but three brides at the altar. The only problem? Luke refuses to answer Jordan's emails or return her calls. Which is how she ends up on a flight to Montana to recruit him in person. It's not Manhattan but at least the locals in Lucky Hollow seem friendly . . . except for Luke, who's more intense—and way hotter—than the slick womanizer Jordan expected.
Eager to put the past behind him, Luke has zero intention of following this gorgeous, fast-talking city girl back to New York. But before he can send her packing, Jordan's everywhere: at his favorite bar, the county fair, even his exes' book club. Annoyingly, everyone in Lucky Hollow seems to like her—and deep down, she's starting to grow on him too. But the more he fights her constant pestering, the more Luke finds himself wishing that Jordan would kick off her high heels and make herself comfortable in his arms.
My Review:
I love a good, easy romance and this little story definitely filled those blanks for me.
Jordan heads to a small town in Montana to persuade local boy Luke to be on her television show to help Luke find
the one
...considering he's left three brides at the altar. Luke just wants Jordan to go away, but the whole town loves her and she's determined to stay until she wins him over too.
The banter and chemistry in this book is great. They are both clearly attracted to each other, but not in an insta-love kind of way. These are two adults with some issues to work through and some truths to be told.
I loved reading Jordan's POV as she learned things about Luke, especially learning them from his exes. While Jordan still has her own thoughts about Luke, you can see how her heart changes toward him. It's the same with Luke as he gets to know and, eventually, fall in love with Jordan.
Things do get steamy, but not raunchy. After, Luke and Jordan obviously grow closer and the whole town seems to be rooting for them. There's drama, of course, but in the long run everything turns out okay. The story is sweet and the two of them really seem to get each other.
Thanks to NetGalley and Loveswept for the ARC.