(Review) A Million Junes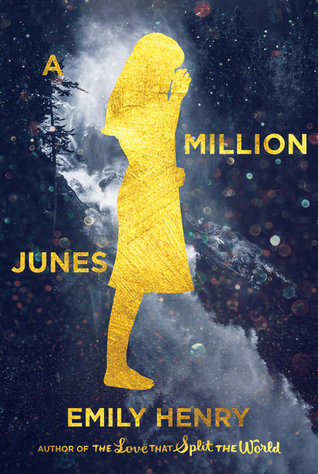 A Million Junes by Emily Henry
Publication Date: May 16th, 2017
Pages: 350 (hardcover)
Genre: Young Adult
My Goodreads Rating: 5 Stars

Goodreads Synopsis:
For as long as Jack "June" O'Donnell has been alive, her parents have had only one rule: stay away from the Angert family. But when June collides—quite literally—with Saul Angert, sparks fly, and everything June has known is thrown into chaos.
Who exactly is this gruff, sarcastic, but seemingly harmless boy who has returned to their hometown of Five Fingers, Michigan, after three mysterious years away? And why has June—an O'Donnell to her core—never questioned her late father's deep hatred of the Angert family? After all, the O'Donnells and the Angerts may have mythic legacies, but for all the tall tales they weave, both founding families are tight-lipped about what caused the century-old rift between them.
As Saul and June's connection grows deeper, they find that the magic, ghosts, and coywolves of Five Fingers seem to be conspiring to reveal the truth about the harrowing curse that has plagued their bloodlines for generations. Now June must question everything she knows about her family and the father she adored, and she must decide whether it's finally time for her—and all the O'Donnells before her—to let go.
My Review:
I'll have to admit to being a little bit wary of this one. I *liked* The Love That Split the World, but I wasn't *in love* with it and I'm always scared to try something else from an author when I don't have strong feelings about it.
This is a story about June. Or Jack. Or Junior. She's got a lot of names and it's okay, because she's one-of-a-kind. I'll call her June for the sake of this review because it's the name I liked best. June really was a simple character- I mean that in the best way possible. She's down to earth and simple, but not in a dumb way. June loves her family, her friends, and her home. She's kind and caring, but not to the point that she's naive.
When June meets Saul at a carnival things take a turn. Saul is an Angert and O'Donnells hate Angert. Only Saul is handsome and smart and funny...so why should she hate him?
As this story progresses and Saul and June grow closer, magic happens. Not magic as in "sparks fly" (even though they do), but actual magic. June has always believed her house is haunted and has always seen Feathers, the friendly ghost. Now more things are happening and both Saul and June are seeing things.
What they're seeing is their families' past - the reason why they're supposed to hate each other.
So, this story was filled with all kinds of feels. It was like the perfect mixture of love story, mystery, forbidden love, and magic. I was on pins and needles fifty pages in, dying to know what was going to happen.
The way that the magic and family history was woven together was perfect. June's relationships were perfect: from her parents, siblings, friends, and Saul - I loved all of it.
It's not everyday I fall in love with a book so much that I need a recovery day before I read anything again...but this was it.
I would read A Million Junes a million times.