(Review) Into the Water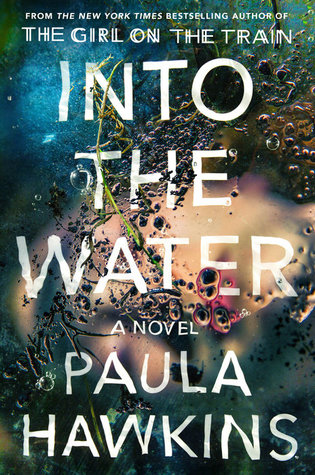 Into the Water by Paula Hawkins
Publication Date: May 2, 2017
Pages: 388 (hardcover)
My Goodreads Rating: 3 Stars
Goodreads Synopsis:
A single mother turns up dead at the bottom of the river that runs through town. Earlier in the summer, a vulnerable teenage girl met the same fate. They are not the first women lost to these dark waters, but their deaths disturb the river and its history, dredging up secrets long submerged.
Left behind is a lonely fifteen-year-old girl. Parentless and friendless, she now finds herself in the care of her mother's sister, a fearful stranger who has been dragged back to the place she deliberately ran from—a place to which she vowed she'd never return.
With the same propulsive writing and acute understanding of human instincts that captivated millions of readers around the world in her explosive debut thriller, The Girl on the Train, Paula Hawkins delivers an urgent, twisting, deeply satisfying read that hinges on the deceptiveness of emotion and memory, as well as the devastating ways that the past can reach a long arm into the present.
Beware a calm surface—you never know what lies beneath.
My Review:
I got this book from a Book of the Month deal for free, so that was pretty exciting. I mean, who doesn't love free books, amirite? I really liked Girl on the Train so I was pretty eager to grab this one.
The book starts with the deal of Nel, Jules' older sister. Jules and Nel have, at best, a rocky relationship. They haven't spoken in years and Jules feels like she's coming back to clean up his sister's mess. See, Nel was writing a story about the Drowning Pool...which is where she died. Other women have died there and Nel wanted to write their stories and to know why.
Jules is a fairly uptight character who struggles with a lot of different things. Her flashbacks of growing up with Nel are not fun at all. She's got a lot of things that she isn't processing and being back in the town isn't helping her.
Into the Water is a mix of POVs that gets pretty confusing. Instead of fleshing out one or two main characters we hear from multiple. The backstory of the Drowning Pool is interesting enough, but it kind of falls flat when it's told from some many people. None of the characters are particularly redeemable, but the mystery is decent. Everything happens quickly at the end and I wished for a little more closure. I was happy with the relationship growth between Jules and Lena, but the rest of the characters...meh.