Review: A Court of Wings and Ruin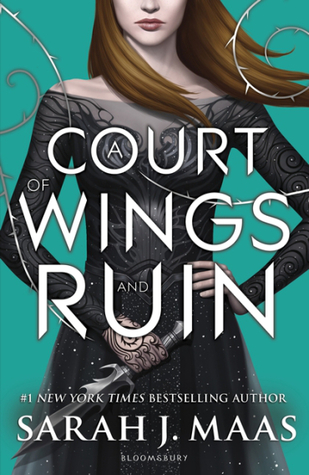 A Court of Wings and Ruin by Sarah J. Maas
Publication Date: October 3, 2017
Pages: 705 (hardcover)
Genre: Fantasy (New Adult)
My Goodreads Rating: 4 Stars
Goodreads Synopsis:
Feyre has returned to the Spring Court, determined to gather information on Tamlin's maneuverings and the invading king threatening to bring Prythian to its knees. But to do so she must play a deadly game of deceit-and one slip may spell doom not only for Feyre, but for her world as well.

As war bears down upon them all, Feyre must decide who to trust amongst the dazzling and lethal High Lords-and hunt for allies in unexpected places.

In this thrilling third book in the #1 New York Times bestselling series from Sarah J. Maas, the earth will be painted red as mighty armies grapple for power over the one thing that could destroy them all.

My Review:
This series...
I love when a series pulls me in with magic and swoons and everything in between. When I first read
A Court of Thorns and Roses
I completely fell in love with Feyre and Tamlin and everything about the Spring Court. Then, of course,
A Court of Mist and Fury
happened and everything changed.
There are so many things to think about with A Court of Wings and Ruin so I'm just going to highlight some of my favorites.
I love the guessing games of pretty much the whole book. War is raging all around Feyre and Rhys. Their friends are dying and lands are being destroyed, and they don't know who to trust. I love that, through it all, these two are a strong and united front.
There's such a great myriad of characters in this series that you come to know and love even more with this third installment. Even with the second-guessing and the fighting the inner circle of the Night Court is a close-knit group.
I seriously went through so many emotions while reading this book. From anger and rage to swoons and sadness. I loved everything about it. I fell back in love with some characters and forgave others for being complete jerks. Of course, you learn to hate some of them too.
The ending, to me, was lovely and just what I'd hoped for. I'd love to have a little more resolve for some of the other characters. Hopefully we'll see some more of that in the future.