(Review) What Light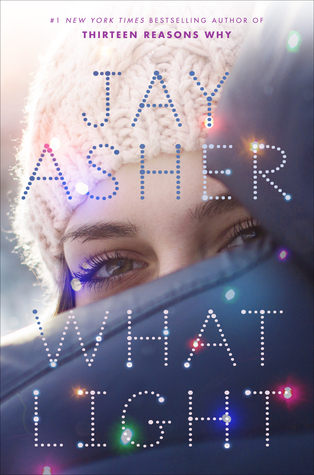 What Light by Jay Asher
Publication Date: October 18, 2016
Pages: 272 (kindle)
Genre: Young Adult
My Goodreads Rating: 3 stars
Goodreads Synopsis:
Sierra's family runs a Christmas tree farm in Oregon—it's a bucolic setting for a girl to grow up in, except that every year, they pack up and move to California to set up their Christmas tree lot for the season. So Sierra lives two lives: her life in Oregon and her life at Christmas. And leaving one always means missing the other.
Until this particular Christmas, when Sierra meets Caleb, and one life eclipses the other.
By reputation, Caleb is not your perfect guy: years ago, he made an enormous mistake and has been paying for it ever since. But Sierra sees beyond Caleb's past and becomes determined to help him find forgiveness and, maybe, redemption. As disapproval, misconceptions, and suspicions swirl around them, Caleb and Sierra discover the one thing that transcends all else: true love.
What Light is a love story that's moving and life-affirming and completely unforgettable.
My Review:
Like most of
What Light
's readers I come from
Thirteen Reasons Why
in hopes for something amazing. I think that Jay Asher is a gifted storyteller and definitely has a way with making us feel the feels.
I liked this book. I didn't
love
it. It wasn't something that I stayed up all night reading, but it held my attention and absolutely gave me some feels.
Sierra's family travels to California each year to sell their Christmas trees. Their routine is pretty safe. They see the same people, have the same friends and customers. Until one day, Caleb shows up. Immediately everyone's feathers are ruffled because Sierra seems interested and Caleb has a "dark past".
I feel like the way that Sierra and Caleb start their relationship is cute and sweet. Caleb visits the lot because he buys trees for families who can't afford them and then delivers them to the families. While he does hide his past from Sierra for a while (a few days), he does end up coming clean with her. Caleb is an outcast because of what he did, but Sierra sees more in him than that.
Sierra, of course, does fall into the typical teenage girl category. She's stubborn and wants everyone to like Caleb as much as she does. She doesn't seem to think that his past is a problem: she trusts him.
There were a few too-sweet moments and some bouts of teenage angst, but all-in-all I enjoyed this story. I feel like the characters grew with each other in the short time I got to spend with them. Sierra might have been a little bit selfish at times, but she truly believed in Caleb and wanted to make life better for him.
This was a sweet story. It wasn't as heart-gripping as
Thirteen Reasons Why
, but not every story is like that. Check if out if you like a little bit of fluff.