(Review) We Were On a Break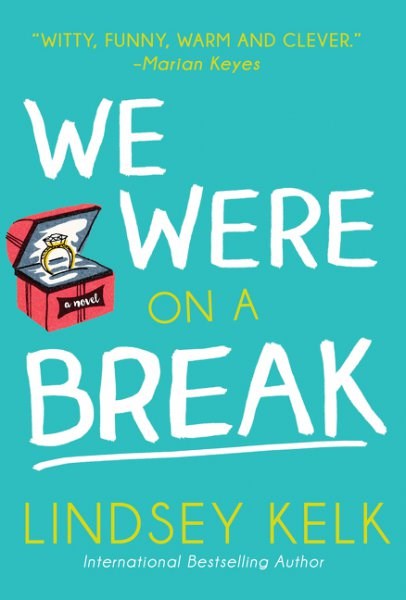 We Were On a Break by Lindsey Kelk
Publication Date: January 3, 2017
Pages: 416 (paperback)
Genre: Contemporary Romance
My Goodreads Rating: 2 Stars
Goodreads Synopsis:
LIV and ADAM are in love. LIV and ADAM are supposed to be getting engaged. Until ADAM accidently suggests they take a break. And LIV starts thinking
Friends, family and bystanders all have an opinion and one complication leads to another as Adam and Liv try to muddle through in this hilarious, heartwarming comedy.
Are they split up - or are they on a break? What exactly are they allowed to get away with? And, most importantly, what do Liv and Adam really want?
My Review:
I went into this one with high hopes of a cute little romance and a getting-back-together story, but it came be a little more than that.
Liv and Adam are having a great time on vacation and Adam is all ready to propose until it gets all screwed up and their night ends in a huge fight. On their way home, it's practically unbearable and by the time they arrive back Adam has decided they need a break from each other.
So. You would think that some fun would ensue, only it doesn't happen. Instead of a happy-go-lucky "fun" story, Adam and Liv are both very depressing characters. Liv is constantly doubting everything about herself and blowing Adam off when he tries to talk to her, but is still blaming him for everything.
Even when she herself decides that she wants a break. Adam is, I hate to stereotype, a typical male. He can't seem to "keep it in his pants" and proceeds to fawn over the first beautiful girl who gives him the time of day. Reading their interactions and his afterthoughts about Liv were disheartening.
By 80% things were just starting to get ridiculous with a huge uproar at a baby's christening.
I didn't really care for any of these characters and wasn't really that excited about their ending. I feel like this book could have been made a lot shorter if the characters weren't so self-loathing and had some self-respect.
It did have a cat, though.
Thanks to Edelweiss and Harper for the ARC.