(Review) When We Collided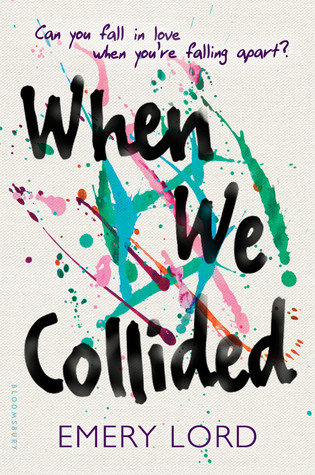 When We Collided by Emery Lord
Publication Date: April 5, 2016
Pages: 352 (hardcover)
Genre: Contemporary/Young Adult
My Goodreads Rating: 5 Stars
Goodreads Synopsis:
We are seventeen and shattered and still dancing. We have messy, throbbing hearts, and we are stronger than anyone could ever know…
Jonah never thought a girl like Vivi would come along.
Vivi didn't know Jonah would light up her world.
Neither of them expected a summer like this…a summer that would rewrite their futures.
In an unflinching story about new love, old wounds, and forces beyond our control, two teens find that when you collide with the right person at just the right time, it will change you forever.
My Review:
Wow, this book.
Can that be my review? "Wow!"
I am a huge fan of Emery's and was definitely anticipating this book. It is full of big characters, bright language, and tough subjects.
Vivi and Jonah meet in a completely random way and they are both captivated by the encounter. Vivi is different than the small town girls Jonah is used to. She looks different, acts different...everything about her is loud. Jonah, on the other hand, plays down every part of himself. He's beautiful, but doesn't seem to know it. He's quiet and intelligent and worries about things that are out of his control.
I really loved everything about this book. It's told from both Vivi's and Jonah's points of view and it's intoxicating. Vivi's chapters are fast-paced and interesting, no doubt because Vivi is a character with bipolar disorder whose ritual every morning it to throw her lithium pill into the ocean. Jonah's chapters are more subdued as he learns how to navigate life without his father, with his depressed mother and his five siblings.
These two really do change each other's lives and it's so much fun to read. While Jonah starts to grow and change, Vivi falls into a downward spiral because of her lack of medication, even though she swears she doesn't need it.
Vivi's openness about most things is easy to love and you can see why Jonah falls for her and doesn't want to let her go. Jonah is the definition of a slow burn. He's sexy, sweet, smart...everything you cold want in a male lead. And he's good with kids! And he cooks!
I love the progression and the change in their relationship. The drama in this story is not just for drama's sake. Lord deals with real issues that real people, teens and adults alike, deal with. There are so many things we don't understand about other people's minds but she does a great job of putting a little bit of it into perspective for us.
Definitely check this one out. It's going onto my favorites of 2016.