(Review) Vanishing Girls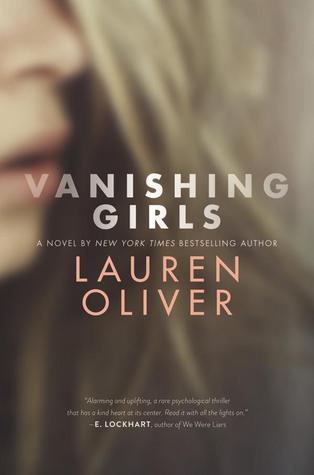 Vanishing Girls by Lauren Oliver
Publication Date: March 10, 2015
Pages: 368 (kindle)
Genre: Young Adult
My Goodreads Rating: 4 Stars
Goodreads Synopsis:
New York Times
bestselling author Lauren Oliver delivers a gripping story about two sisters inexorably altered by a terrible accident.
Dara and Nick used to be inseparable, but that was before the accident that left Dara's beautiful face scarred and the two sisters totally estranged. When Dara vanishes on her birthday, Nick thinks Dara is just playing around. But another girl, nine-year-old Madeline Snow, has vanished, too, and Nick becomes increasingly convinced that the two disappearances are linked. Now Nick has to find her sister, before it's too late.
In this edgy and compelling novel, Lauren Oliver creates a world of intrigue, loss, and suspicion as two sisters search to find themselves, and each other.
My Review:
I'm going to admit to being a huge Lauren Oliver fan, even though I haven't read her Delirium series. I fell for the others, however. This book has been sitting on my kindle for a while and one of my goals (haha) every summer is to read books I already own.
I liked Nick right away. She's smart and strong-willed. She doesn't let Dara or her friend influence her. Nick's kind of quiet and reserved, too, but I appreciated that about her.
Dara bothered me from the beginning. Her secretive attitude and obvious acting out were a little annoying.
So, after the accident things got weird. Once Nick goes back to live with her mother is where the real story starts. Nick starts working at FanLand with Parker, her ex-best friend and Dara's ex-boyfriend, and things slowly progress. I love the alternating points of view and the little clues that you can pick up from all the other characters. It took a while for me to figure out what was going on, but when I did everything started to make sense.
Oliver does twists really well and this one was no different.
I still liked Nick as a character, even after the big reveal. She's suffered a lot of trauma and it obviously was rough on her. I liked how, even though she wasn't really all there, she still managed to figure out the mystery of the missing girl and kind of get the guy.
Deep down I think this story was about how to deal (or not to deal) with a major loss in your life. I have huge respect for Lauren Oliver touching on it this way. Not everyone grieves in the same manner, so this was an eye opener.
Definitely worth the read, I'm sorry I waited so long!