(Review) The Anatomical Shape of a Heart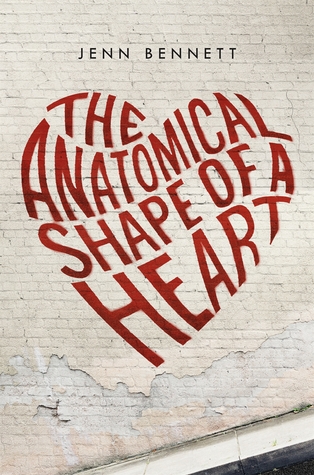 The Anatomical Shape of a Heart by Jenn Bennett
Publication Date: November 3, 2015
Pages: 304 (hardcover)
Genre: Young Adult
My Goodreads Rating: 2.5 Stars
Goodreads Synopsis:
Beatrix Adams knows exactly how she's spending the summer before her senior year. Determined to follow in Da Vinci's footsteps, she's ready to tackle the one thing that will give her an advantage in a museum-sponsored scholarship contest: drawing actual cadavers. But when she tries to sneak her way into the hospital's Willed Body program and misses the last metro train home, she meets a boy who turns her summer plans upside down.
Jack is charming, wildly attractive, and possibly one of San Francisco's most notorious graffiti artists. On midnight buses and city rooftops, Beatrix begins to see who Jack really is—and tries to uncover what he's hiding that leaves him so wounded. But will these secrets come back to haunt him? Or will the skeletons in her family's closet tear them apart?
My Review:
I don't really have a lot to say about this book except that it was "okay". I didn't hate it, but I didn't really like it that much either.
It actually took me a while to get into it and I nearly flounced it about 30% in because I wasn't sure if anything interesting was going to happen. Bex and Jack are decent characters. They are just the right amount of "quirky" and "smart" for each other. They meet one night while both of them are out doing things they aren't supposed to do and then sort of keep "running into each other".
They each have very different lives, so I guess that's part of the "forbidden relationsihp" kind of thing, but it just didn't work for me here. All Bex thinks about is how pretty Jack is and how she wants to "do things to him". A lot of the time being in her head was like being in a teenage boy's. I read a couple of reviews about this book being "sex positive" and that didn't really make any sense to me. It's not about whether Bex is a slut or if she wants to sleep with Jack. They literally have one conversation about how many people she'd been with (spoiler alert: its one) and I'm a pretty firm believer in the fact that YA should tone down the sex, so there's that...
I don't know, this book didn't really grab my attention that well. I was looking for something like Graffiti Moon but this wasn't it. Like I said, the characters were likable enough but their lives and struggles just didn't make sense to me. I get that they each had their secrets (Jack more so than Bex) but I also found myself not really caring what happened to them. Bex was pretty selfish and, while Jack thought he had a good cause for doing what he did, he was pretty self-centered also.
So, 2.5 stars. Definitely a decent, easy read.