(Review) With Malice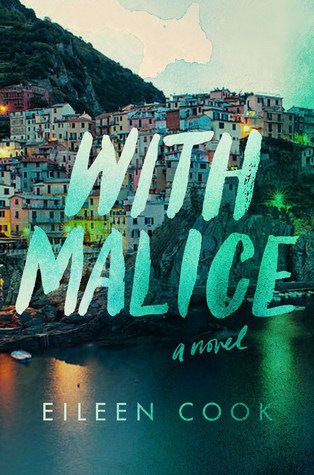 With Malice by Eileen Cook
Publication Date: June 7, 2016
Pages: 320 (kindle)
Genre: Young Adult Thriller
My Goodreads Rating: 3.5 Stars

Goodreads Synopsis:
A read about a teenage girl who wakes up in a hospital bed and cannot remember the last six weeks of her life, including the accident that killed her best friend--only what if the accident wasn't an accident?
Eighteen-year-old Jill Charron wakes up in a hospital room, leg in a cast, stitches in her face and a big blank canvas where the last 6 weeks should be. She comes to discover she was involved in a fatal accident while on a school trip in Italy three days previous but was jetted home by her affluent father in order to receive quality care. Care that includes a lawyer. And a press team. Because maybe the accident...wasn't an accident. Wondering not just what happened but what she did, Jill tries to piece together the events of the past six weeks before she loses her thin hold on her once-perfect life.
My Review:
I was super excited to get an ARC of this book. I love mysteries and this premise seemed like a good one!
Jill wakes up in a hospital bed with no recollection of how she got there. Actually, she can't remember the last six weeks of her life and has no idea that her best friend is dead. Not only is her best friend dead,
everyone
thinks that Jill killed her on purpose.
This book is ripe with complex, interesting characters. Jill is, by definition, a bookworm. Her relationship with Simone unfolds through memories and flashbacks that paint her in a positive light. She's smart and loyal, and desperate to find out what happened to her. Jill's roommate, Anna, is a bright spot in Jill's life. She not only tries to help her find out what happened, but she is honest with her no matter what. Anna doesn't sugarcoat what things are saying about Jill and she always lets Jill know what she's thinking.
There is also a group of doctors, Jill's parents, and a collection of other characters who are in and out of the picture through police reports and internet posts.
While Jill in her recovery things are going on around her that she has no control over. There are groups against her, people saying terrible things about her and her relationship with Simone. Jill continues to get glimpses of her time in Italy where her accident with Simone happened, but she isn't sure what's true and what isn't.
Cook does a great job keeping up with the mystery of the accident and Jill' memory loss. There are plenty of "character witnesses" and side stories that keep you guessing about what really happened between Jill and Simone. I loved seeing it all unfold through Jill's eyes; trying to figure it all out with her. I got pretty close to what actually happened, but I blame that more on Cook's storytelling than my intuition.
This was a good book, very much like
Liars, Inc.
Check it out in June.
Thanks to Edelweiss and HMH Books for Young Readers for the ARC.