(Review) Not If I See You First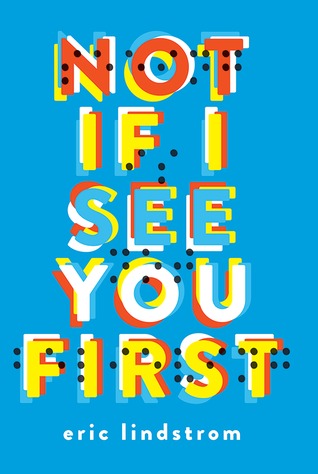 Not If I See You First by Eric Lindstrom
Publication Date: December 1, 2015
Pages: 310 (hardcover)
Genre: Young Adult
My Goodreads Rating: 4 Stars
Goodreads Synopsis:
The Rules:

Don't deceive me. Ever. Especially using my blindness. Especially in public.

Don't help me unless I ask. Otherwise you're just getting in my way or bothering me.

Don't be weird. Seriously, other than having my eyes closed all the time, I'm just like you only smarter.
Parker Grant doesn't need 20/20 vision to see right through you. That's why she created the Rules: Don't treat her any differently just because she's blind, and never take advantage. There will be no second chances. Just ask Scott Kilpatrick, the boy who broke her heart.
When Scott suddenly reappears in her life after being gone for years, Parker knows there's only one way to react—shun him so hard it hurts. She has enough on her mind already, like trying out for the track team (that's right, her eyes don't work but her legs still do), doling out tough-love advice to her painfully naive classmates, and giving herself gold stars for every day she hasn't cried since her dad's death three months ago. But avoiding her past quickly proves impossible, and the more Parker learns about what really happened—both with Scott, and her dad—the more she starts to question if things are always as they seem. Maybe, just maybe, some Rules are meant to be broken.
Combining a fiercely engaging voice with true heart, debut author Eric Lindstrom's
Not If I See You First
illuminates those blind spots that we all have in life, whether visually impaired or not.
My Review:
I honestly don't know what I was expecting going into this one (do we ever really?), but I absolutely loved it.
Parker is a high school junior whose life has recently been turned upside-down by the death of her father and her family moving into her home to take care of her. Parker was also blinded in a car accident when she was a kid and that accident killed her mother.
Basically, Parker has a tough life.
Also, Parker is kind of a jerk.
I actually really like Parker a lot as a character. She's blunt and to the point. She doesn't sugarcoat anything and isn't afraid to speak her mind. I wish I was more like her in high school. Parker doesn't let her blindness control her and that's why she has The Rules.
With so many changes going on it doesn't help that Scott, the boy she loved in middle school who hurt her the most, is back in her life. He definitely complicates things.
I love that, even though Parker is kind of a jerk, her friends are still there for her even in her dark times. One of my favorite things (I've you've ever read one of these ramblings) is character growth and I feel that Parker grows in a major way. She's fairly selfish and completely self-centered, thinking mostly about her self and her own woes. Eventually, though, Parker takes a step back and sees that other people around her are struggling and hurting. It's, for lack of a better term, eye-opening to her.
It's great to watch it all play out and to see how different Parker's friends are. Strong supporting characters (to me) are key in a good YA story and Eric does a great job portraying all of them. I really enjoyed watching Parker come into her own and step out of her comfort zone.
This was an easy and refreshing read. Check it out!