(Review) Beyond the Red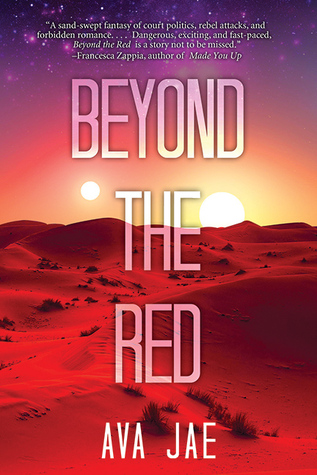 Beyond the Red by Ava Jae
Publication Date: March 1st, 2016
Pages: 352 (hardcover)
Genre: Young Adult/Science Fiction
My Goodreads Rating: 4 Stars
Goodreads Synopsis:
Alien queen Kora has a problem as vast as the endless crimson deserts. She's the first female ruler of her territory in generations, but her people are rioting and call for her violent younger twin brother to take the throne. Despite assassination attempts, a mounting uprising of nomadic human rebels, and pressure to find a mate to help her rule, she's determined to protect her people from her brother's would-be tyrannical rule.
Eros is a rebel soldier hated by aliens and human alike for being a half-blood. Yet that doesn't stop him from defending his people, at least until Kora's soldiers raze his camp and take him captive. He's given an ultimatum: be an enslaved bodyguard to Kora, or be executed for his true identity—a secret kept even from him.
When Kora and Eros are framed for the attempted assassination of her betrothed, they flee. Their only chance of survival is to turn themselves in to the high court, where revealing Eros's secret could mean a swift public execution. But when they uncover a violent plot to end the human insurgency, they must find a way to work together to prevent genocide.

My Review:
This was my first read book in 2016 and hopefully it's a sign of good books to come! I grabbed this as a "read now" from Edelweiss and I was pleasantly surprised by the book as a whole.
As far as the characters go, Kora and Eros were interesting and fairly easy to relate to. Sure, Kora is an alien queen and Eros is a half human/half alien, but there were definitely parts of their lives that were easy to connect with. Eros had been abandoned by his biological human mother (he didn't know who his alien father was) and was pretty much an outcast his entire life. When Kora finds him it's after her soldiers have destroyed his village, forced what's left of his family into hiding, and he is nearly killed.
Kora is the rightful queen, though the angry people of her territory would rather her brother Dima rule them. Dima, in my opinion, is a trigger happy psycho, but that's just me. Kora is constantly having to defend herself to her brother and to prove herself worthy to rule.
When Eros is captured the guards basically haze him like a bunch of frat boys, so Kora defends him and keeps him as her own personal guard. Kora is nothing if not resourceful. She knows that she can't trust those around her so she chooses Eros because she knows he's a warrior. Eros pledges his allegiance to Kora and, through that, their friendship grows. I say friendship because, even though Eros has definite
boy thoughts
, they form a relationship that's built on trust and not sexual attraction. Eros comforts Kora when she needs it and they learn that both of them suffer from nightmares of their past.
It doesn't take Kora long to discover that Eros is more than what he seems. Once a sort of alien technology is cleared from his system she knows that he isn't just a simple half-blood, he's royalty. After that, things get weird.
I really enjoyed the major parts of this story. After Eros' identity is revealed, Kora makes the decision to find a mate and she chooses Serek, who just so happens to be Eros' long lost uncle.
Things get pretty action-packed after that, as everyone races to help or destroy the humans. Eros and Kora both have things they have to come to terms with and it's interesting to watch them do it. Both of them are still teenagers but, according to their customs, they've been adults for quite a while. I really enjoyed the way that Kora and Eros's relationship grew. It was nice that they didn't automatically fall for each other considering what Kora's soldiers did to Eros' people. Eros still holds so much animosity toward her and I love that he isn't afraid to speak his mind and be honest with her. I think that Kora is surprised at how he treats her, but I also think it's refreshing for her to not be treated like, well, royalty.
There wasn't much I didn't enjoy about this, just a few little things. There was some slang and vocabulary that took some getting used to (I still don't really understand some of the alien words). I also wasn't sure about Kora's involvement with Serek. I'm sure the quick way she fell for him had a lot to do with her territory and hiding her feelings for Eros, but it happened a little too quickly for my liking.
All in all, this was a great story. The ending cliffhanger killed me a tiny little bit so, of course, I'll be anxiously awaiting whatever happens next!
Thanks to Edelweiss and Sky Pony Express for the ARC.