(Review) Black Widow: Forever Red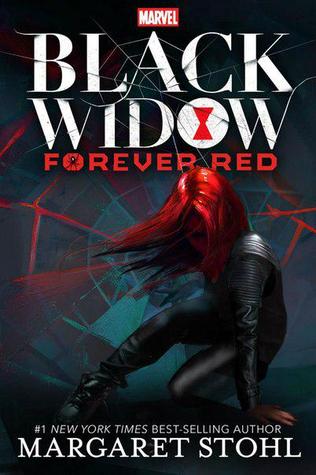 Black Widow: Forever Red by Margaret Stohl
Publication Date: October 13, 2015
Pages: 401 (hardcover)
Genre: Young Adult
My Goodreads Rating: 3.5 Stars
Goodreads Synopsis:

Enter the world of the Avengers' iconic master spy

Natasha Romanoff is one of the world's most lethal assassins. Trained from a young age in the arts of death and deception, Natasha was given the title of Black Widow by Ivan Somodorov, her brutal teacher at the Red Room, Moscow's infamous academy for operatives.

Ava Orlova is just trying to fit in as an average Brooklyn teenager, but her life has been anything but average.The daughter of a missing Russian quantum physicist, Ava was once subjected to a series of ruthless military experiments-until she was rescued by Black Widow and placed under S.H.I.E.L.D. protection. Ava has always longed to reconnect with her mysterious savior, but Black Widow isn't really the big sister type.

Until now.

When children all over Eastern Europe begin to go missing, and rumors of smuggled Red Room tech light up the dark net, Natasha suspects her old teacher has returned-and that Ava Orlova might be the only one who can stop him. To defeat the madman who threatens their future, Natasha and Ava must unravel their pasts. Only then will they discover the truth about the dark-eyed boy with an hourglass tattoo who haunts Ava's dreams. . . .

Black Widow:Forever Red features all the heart-pounding adventure readers expect from Marvel, written by #1 New York Times best-selling author Margaret Stohl. Uncover a new side of the Marvel Universe that will thrill loyal fans and newcomers alike, as Stohl reveals the untold story of Black Widow for the very first time


My Review:
When I first heard there was going to be a Black Widow book my reaction was probably something like this:
Pardon me while I fangirl.
I'm a huge fan of the MCU and Marvel Comics and, as a woman, I was SO EXCITED about getting a Black Widow story (that didn't involve her swooning over Bruce Banner, ew). I also pretty much devoured
The Beautiful Creatures
series, so I was pretty stoked to see that Margaret Stohl was writing it.
So, here we are.
I love that the story opens in Natasha's POV considering this is a story about her and Ava. It's great to get right into Black Widow's head as she's on her way to a mission that's incredibly personal for her in a way we don't really understand yet. Black Widow's past is kind of a mystery, but this book does an excellent job of opening it all up for us.
We meet Ava as a child in the first chapter and they are both affected by a machine that Ivan Somodorov has activated. Of course, we don't find out about that until much later.
When we meet Ava again her life is much different. She's "escaped" from S.H.I.E.L.D. and is living on her own, sleeping in a basement and eating at shelters. She doesn't have much, but she's tough and a little (okay a lot) cynical. One thing Ava does have is dreams. Vivid dreams about a boy with a Black Widow tattoo.
Here's where Alex enters the picture. Alex is just a normal kid, right? LOL, no. Okay, at first we think Alex is a normal kid...only he's strong, sassy, and has amazing reflexes. (Sound like anyone you know?)
Together (with the help of Tony Stark!), they discover that because of what happened on the initial mission Natasha and Ava are mentally linked. It explains why Ava dreams about Alex (Black Widow has been tailing him) and why she can suddenly do certain things. It also allows her to see into Black Widow's mind: her pain and fears and all that goes with it.
All hell breaks loose as the three of them fight to find the truth about themselves. I loved the Black Widow chapters. Being in her head is so much. Ava's and Alex's chapters weren't my favorite, but we did learn a lot from them. Ava blames Natasha for what happened in her life and Alex learns that he might not be so normal after all. (It happens when he suddenly starts speaking Russian.) It was interesting to see Ava and Natasha build a relationship and start to trust each other considering their lives were so intertwined.
The Alex storyline was something that got to me, breaking my heart just a little. As a fan of fictional characters I love to see them happy and Black Widow is no different. I was sad about how things with Alex played it. It's almost as if Black Widow "can't have nice things", but I did appreciate the growth of her relationship with Ava.

There were definitely flaws, but for the most part I enjoyed the journey. The snippets of the S.H.I.E.L.D interview was a breath of Coulson fresh air and a nice little glimpse at Natasha's snark. I didn't quite understand Alex and Ava's quick infatuation, but I think that's to be expected from a YA novel.