(Review) Even in Paradise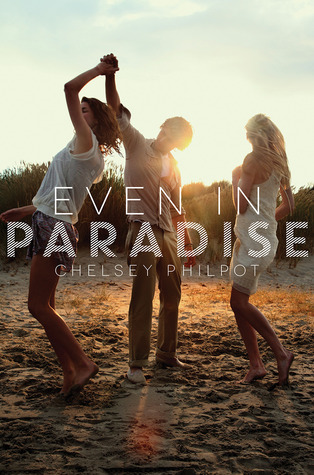 Even in Paradise by Chelsey Philpot
Publication Date: October 14, 2014
Pages: 360 (Hardcover)
Genre: Young Adult
My Goodreads Rating: 4 Stars
Goodreads Synopsis:
When Julia Buchanan enrolls at St. Anne's at the beginning of junior year, Charlotte Ryder already knows all about the former senator's daughter. Most people do... or think they do.
Charlotte certainly never expects she'll be Julia's friend. But almost immediately, she is drawn into the larger than-life-new girl's world—a world of midnight rendezvous, dazzling parties, palatial vacation homes, and fizzy champagne cocktails. And then Charlotte meets, and begins falling for, Julia's handsome older brother, Sebastian.
But behind her self-assured smiles and toasts to the future, Charlotte soon realizes that Julia is still suffering from a tragedy. A tragedy that the Buchanan family has kept hidden... until now.
My Review:
This book and I went on a short adventure before our time together even started. I requested it from the library (along with a billion other books), but by the time it arrived school had started and I didn't have time to go get it. The day I follow do go get it, it gets sent back that very morning! So, I had to request it all over again.
And here we are.
I'm really glad we went through all of that together, but I loved this book with a CAPITAL L. I loved Charlotte even before she became friends with Julia. She was totally down-to-earth, smart, and loved her family. You knew she was just by the short narrative before we even meet Julia.
Her meeting with Julia was fun, and I'm not surprised at all at how their friendship grew. I was a little upset at how Charlotte's other relationships fell apart, but I knew it was best for the story. Like the summary says, the Buchanans are easy to fall in love with.
Watching their (all of them) relationships and friendships unfold was truly beautiful. The way the whole family welcomed "Charlie" in a Julia's friend (and Sebastian's...) was so sweet. I do feel that, at some point, they began to take advantage of Charlie and her influence over Julia, but I honestly believe it was because they loved her so much.
Of course, the big family secret was a terrible tragedy. I hated that they kept it from Julia, and so did she. I can understand why they did, and I also understand why she reacted the way she did. She loved the family with all her heart and sacrificed other relationships for them and they kept something huge from her.
Before it all went down in flames, though, Charlie and Sebastian's relationship was adorable. I loved his little quirks and gifts (I'll never look at lemonade caps the same again), and even his big gifts (CHARLIE, YOU ALWAYS ACCEPT DIAMONDS).
I felt that the ending was kind of abrupt and it a hurt a little, but was thankful to turn the page and see just a little more into their lives. It left me hopeful and a little swoony.
Me, at the end, hoping. <3