(Review) 99 Days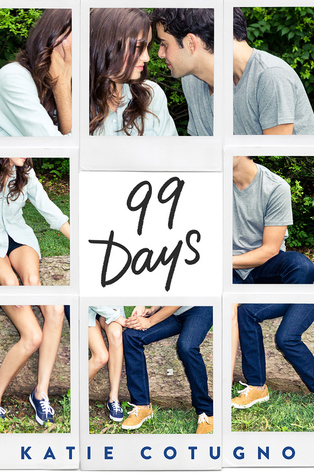 99 Days by Katie Cotugno
Publication Date: June 2, 2015
Pages: 384 (Hardcover)
Genre: Young Adult/New Adult
My Goodreads Rating: 3 (2.5) Stars
Goodreads Synopsis:
Day 1: Julia Donnelly eggs my house my first night back in Star Lake, and that's how I know everyone still remembers everything—how I destroyed my relationship with Patrick the night everything happened with his brother, Gabe. How I wrecked their whole family. Now I'm serving out my summer like a jail sentence: Just ninety-nine days till I can leave for college, and be done.
Day 4: A nasty note on my windshield makes it clear Julia isn't finished. I'm expecting a fight when someone taps me on the shoulder, but it's just Gabe, home from college and actually happy to see me. "For what it's worth, Molly Barlow," he says, "I'm really glad you're back."
Day 12: Gabe got me to come to this party, and I'm actually having fun. I think he's about to kiss me—and that's when I see Patrick. My Patrick, who's supposed to be clear across the country. My Patrick, who's never going to forgive me.
My Review:
I'm so torn with this book. It started out promising. Molly has returned from a year at boarding school after graduation. She pretty much sent herself to boarding school after her author mother penned a novel about Molly's involvement with two brothers: Patrick and Gabe. All hell broke loose after the novel came out and everyone accused Molly of being a super-slut (not my words).
Molly was with Patrick forever, but one night while they were broken up she slept with his brother, Gabe. Of course, no one has forgotten what happened, especially not Julia who used to be Molly's best friend (she's also Patrick's twin).
It was really hard for me to find any characters with redeeming qualities in this book. Maybe Imogen or Tess because they were sincere enough. The entire Donnelly family was terrible, especially Patrick who was supposed to be the victim in all of this. I'll admit to liking Gabe. I felt like her really did care about Molly and feel bad about how everyone treated her, considering that he was directly involved in everything too.
I liked the way that Molly and Gabe's relationship evolved. He made her feel better about herself and made her happy. When she was with Gabe she didn't think too much about what everyone else thought.
Of course, she messed it up. Like, hugely. At this point I felt like everything started to go downhill for all of the characters. Molly made a really, really stupid choice and I knew it wasn't going to end the way I wanted it to. I felt like they were too far from redemption for it to get any better.
I was basically correct in my thinking. Everyone continues to be terrible to Molly, completing disregarding the fact that both Patrick and Gabe were are also at fault. At one point Molly tells Julia off and that's fun, but it doesn't really deter Julia, so what was the point?
The ending left me hanging a little. I don't feel like anything was really wrapped up nicely and that's how I like to see books end. I read a comment about how the author should do a companion piece and I agree. I'd like to see Molly and Gabe make things right. This was definitely an interesting read and it kept me engaged, but it left me wanting a little bit more.
IDK.