(Review) To All the Boys I've Loved Before/P.S. I Still Love You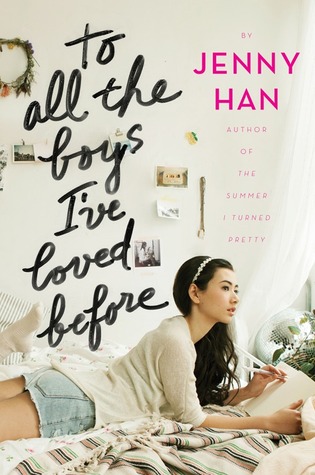 To All the Boys I've Loved Before by Jenny Han
Publication Date: 2014
Pages: 355 (Hardcover)
Genre: Young Adult
My Goodreads Rating: 4 Stars
Goodreads Synopsis:

Lara Jean keeps her love letters in a hatbox her mother gave her.

They aren't love letters that anyone else wrote for her, these are ones she's written. One for every boy she's ever loved—five in all. When she writes, she can pour out her heart and soul and say all the things she would never say in real life, because her letters are for her eyes only. Until the day her secret letters are mailed, and suddenly Lara Jean's love life goes from imaginary to out of control.


My Review:
I don't really know why I put off reading this one for as long as I did. I'd seen people reading and liking it, and then my sister read it and liked it so I thought I'd give it a chance. (She and I have very different taste in books, by the way.)
I pretty much devoured this book on a road trip this past week. It was super cute with just enough drama to keep me involved. Of course, at first I wasn't too sure how to feel about Lara Jean. Her voice comes off a little immature in the beginning but it definitely grew on me. The fact that she's so incredibly naive and awkward it kind of endearing. I enjoyed the weird situations and conversations she got herself into...including her relationship with Peter.
Peter is basically everyone's dream guy and the last person on earth that Lara Jean would date. This is pretty much your typical "fool everyone and really fall for each other" story line, buy it works here. Peter is such a popular guy with so many friends that his social outings really bring out Lara Jean. You can see how she changes throughout the book and I really love that.
There are, of course, people who notice Lara Jean's change and don't like it much. Like Josh, ugh. At first I was really rooting for Josh (the ex-boyfriend of Lara Jean's sister who also got a letter), but toward the end he just came to annoy me. No one but Lara Jean and Kitty, her younger sister, give Peter the benefit of the doubt when it comes to his character and personality.
The other characters are really fleshed out, especially Lara Jean's family and friends. I loved reading about all of their relationships, but especially Lara Jean's and Peter's. It was so sweet and funny, even though it was supposed to be "fake". The ending killed me a little bit. The drama had been pretty light until then.
Thank goodness I had the sequel to pick right up.
*wink*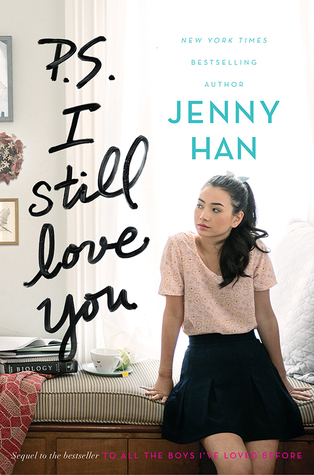 P.S. I Still Love You by Jenny Han
Publication Date: 2015
Pages: 337 (Hardcover)
Genre: Young Adult
My Goodreads Rating: 4 Stars
Goodreads Synopsis:
Lara Jean didn't expect to really fall for Peter. She and Peter were just pretending. Except suddenly they weren't. Now Lara Jean is more confused than ever. When another boy from her past returns to her life, Lara Jean's feelings for him return too. Can a girl be in love with two boys at once?
In this charming and heartfelt sequel to the
New York Times
bestseller
To All the Boys I've Loved Before
, we see first love through the eyes of the unforgettable Lara Jean. Love is never easy, but maybe that's part of what makes it so amazing
My review:
THIS ONE.
This book definitely hit me harder that the first one in the sense of feelings.
Right in the feels.
I loved that it picked up right after the end of
To All the Boys I've Loved Before
and didn't jump ahead too far in the timeline. You can tell that Lara Jean has grown a lot since the beginning of the last book, even though she's still a bit awkward at times. (It's endearing, ha!)
Peter is still just as adorable and funny as he was in the first book and their relationship continues to grow, but it doesn't stay that simple. There are a lot of things standing in their way, specifically: ex-girlfriends and another boy who got a letter.
I really disliked Peter's relationship with Gen even though when you find out the why you appreciate Peter a little bit more. Of course, that didn't make me like Gen any at all. She's basically the mean girl and I kind of hated her. Peter was a good friend to her and she completely took advantage of him.
John Ambrose McClaren was an interesting addition to the mix, though about 80% I was getting furious. My Goodreads updates we all angry, shouty caps because I was really pulling for Peter.
The drama in this one is a little more out there, but somehow it works. I love, loved Kitty's friendship with Peter. Kids are the best judge of character, even fictional ones.
This was a fun little series and I'm glad I picked it up. I have three more of Jenny's books sitting on my shelf and I think they might be good summer reads to get to.
Happy reading!