(Review) The Queen of Bright and Shiny Things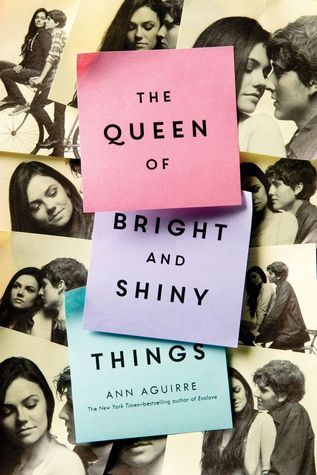 The Queen of Bright and Shiny Things by Ann Aguirre
Publication Date: April 7th, 2015
Pages: 328 (Kindle)
Genre: Young Adult
My Goodreads Rating: 5 Stars
Goodreads Synopsis:
Sage Czinski is trying really hard to be perfect. If she manages it, people won't peer beyond the surface, or ask hard questions about her past. She's learned to substitute causes for relationships, and it's working just fine… until Shane Cavendish strolls into her math class. He's a little antisocial, a lot beautiful, and everything she never knew she always wanted.
Shane Cavendish just wants to be left alone to play guitar and work on his music. He's got heartbreak and loneliness in his rearview mirror, and this new school represents his last chance. He doesn't expect to be happy; he only wants to graduate and move on. He never counted on a girl like Sage.
But love doesn't mend all broken things, and sometimes life has to fall apart before it can be put back together again…
My Review:
Wow, this book. I went on a little book binge while babysitting last weekend and out of the three I read this one stuck with me the most. I love, love, love Sage's character. She was someone I could actually relate to in terms of her attitude toward, well, everyone. Her little notes and the way that she presented herself were refreshing to see in a teenage girl character. I loved that she wasn't really trying to impress anyone with what she was doing; she was simply trying to make herself a better person.
So, of course, Shane see this. He sees her. It's so sweet the way that they find each other and open up to one another because neither of them have someone they can be completely honest with.
One of my favorite things about this book was the secondary characters. So often the "friends" fall flat, but this group was great. Even Ryan, who was sometimes a total tool, was good for Sage. I loved that they stuck by her and didn't judge her for her crazy ways. They just accepted her and compromised when they needed to.
Even when things fell apart Sage's friends were there for her and Shane. One relationship I especially liked seeing develop was Sage's and her Aunt Gabby's. Once you find out Sage's complete backstory you really understand her need to the "the queen of bright and shiny things" and you can tell how much her Aunt Gabby loves her. There were some points in the book when I thought that Gabby was going to lose it with Sage, but it never happened and that was comforting. There's one point toward the end of the book when Gabby lays it all out there that had me in tears.
This book is full of emotional goodness. From the two main character's life stories, to their love story, and their amazing friends. It's definitely going to be one of my favorites.
It hits you where it counts.