(Review) A Court of Thorns and Roses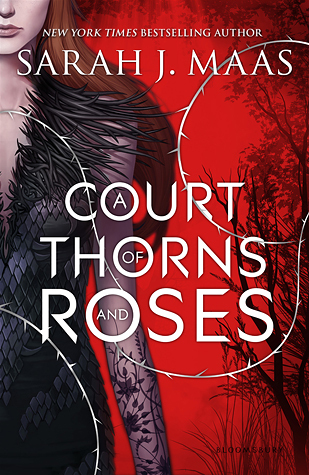 A Court of Thorns and Roses by Sarah J. Maas
Publication Date: May 5th, 2015
Pages: 432 (Kindle)
Genre: Fantasy
My Goodreads Rating: 5 Stars
Goodreads Synopsis:
When nineteen-year-old huntress Feyre kills a wolf in the woods, a beast-like creature arrives to demand retribution for it. Dragged to a treacherous magical land she only knows about from legends, Feyre discovers that her captor is not an animal, but Tamlin—one of the lethal, immortal faeries who once ruled their world.

As she dwells on his estate, her feelings for Tamlin transform from icy hostility into a fiery passion that burns through every lie and warning she's been told about the beautiful, dangerous world of the Fae. But an ancient, wicked shadow grows over the faerie lands, and Feyre must find a way to stop it . . . or doom Tamlin—and his world—forever.

Perfect for fans of Kristin Cashore and George R. R. Martin, this first book in a sexy and action-packed new series is impossible to put down.
My Review:
Okay, okay, OKAY. This is the second five star book I've read recently and I'm FREAKING OUT because I don't usually like that many books at once, if that makes sense. Not that it takes a lot to really
wow
me, I just get picky.
Whatever, let's move on.
The synopsis is pretty clear. Feyre is captured by Tamlin after she kills a wolf who was actually not a wolf at all. He takes her to live on his estate, but lets her do so freely. In the process he also takes her away from poverty, from having to suffer the ungratefulness of her family, and from having to scrimp and hunt for food.
One review I saw mentioned the "Beauty and the Beast" scenario, but I didn't really see that. I feared it, but it didn't present itself that way to me. Feyre can come and go from the manor as she pleases, she is fed and clothed like she'd never been before, and she's protected. (Okay, maybe a little "B&B"...) Eventually she begins to trust Tamlin and his emissary Lucien.
They, along with the others of the Spring Court, have been cursed by the blight and are stuck wearing masks they were wearing from a masquerade ball that was supposed to honor Tamlin. Feyre doesn't really even know what Tamlin really looks like.
I really like the way that their relationship progresses. It doesn't happen overnight or in the first few chapters. It's slowly as he earns her trust and she begins to feel safe with him. Tamlin tells her about her family, he encourages her to paint, and shows her the beauty of the Spring Court.
Sounds good, right? Simple?
Of course all hell breaks loose.
Of course there is angst and drama and you want to throw things.
Of course.
But! It's really,
really
good. Feyre is not one to stand down from a fight and she fights
hard
. She puts herself out there, but not just for herself. Once she learns the truth about Tamlin's curse and what the blight really is she is ready to do whatever it takes to help. I loved the world building and magic in this series. It's a hard thing to do, but the Maas creates a beautiful world. One that is easy to comprehend but not simple.
I went through a lot of emotions reading about Feyre, Tam, and Lucien, but the outcome was worth it.
My Goodreads statuses today.
From the looks of it,
A Court of Thorns and Roses
will have at least two companions, but it read well as a stand alone novel. (This is always something that concerns me after I waited five years for Rick Riordian to finish The Heroes of Olympus series.) I'll definitely be picking up the others when they come out, though.
Happy reading!
Mine too.