(Review) All the Bright Places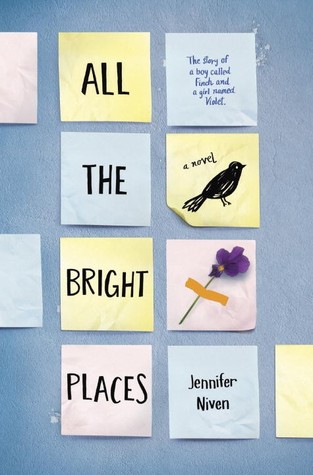 All the Bright Places by Jennifer Niven
Publication Date: January 6, 2015
Pages: 388 (Hardcover)
Genre: Young Adult
My Goodreads Rating: 3.5 Stars


Goodreads Synopsis:
Theodore Finch is fascinated by death, and he constantly thinks of ways he might kill himself. But each time, something good, no matter how small, stops him.
Violet Markey lives for the future, counting the days until graduation, when she can escape her Indiana town and her aching grief in the wake of her sister's recent death.
When Finch and Violet meet on the ledge of the bell tower at school, it's unclear who saves whom. And when they pair up on a project to discover the "natural wonders" of their state, both Finch and Violet make more important discoveries: It's only with Violet that Finch can be himself—a weird, funny, live-out-loud guy who's not such a freak after all. And it's only with Finch that Violet can forget to count away the days and start living them. But as Violet's world grows, Finch's begins to shrink.
This is an intense, gripping novel perfect for fans of Jay Asher, Rainbow Rowell, John Green, Gayle Forman, and Jenny Downham from a talented new voice in YA, Jennifer Niven.
My Review:
This was definitely an interesting read. I've actually had this one sitting on my shelf for a while, but I've been way too nervous to read it because of seeing everyone else's reviews. Sometimes when a book is raved over I tend to shy away from it because I usually hate it, ha! Scrolling through reviews for this it was pretty obvious that most people either love it or hate. So. Here I am. I did not love nor hate this book. I did, however, enjoy reading it.
My life has never personally been influenced by suicide, so there isn't a lot I can say about that aspect of the story.
With that being said, I think that Niven did a good job of approaching the subject. I feel that everything Finch was feeling was presented in an honest and raw way, which was definitely the way to draw readers in. His chapters were sometimes hard to get through because it's hard to imagine that someone somewhere has those thoughts floating around in their head and there is no one to help them.
Violet is dealing with the loss of her sister a year later. She's still living in Eleanor's shadow, using her death as an excuse to basically stop participating in life. She's even taken to wearing Eleanor's glasses just to be close to her.
I liked that, despite his problems, Finch did seem to be good for Violet. He could relate to her in a way that no one else could and managed to draw her out of her shell better than anyone else could. The growth within Violet was probably my favorite thing about this book. The moment she took off Eleanor's glasses I almost cheered out loud.
This book didn't really fill me with swoons or feels. I mostly just felt sorry for these two kids who found something in each other that they couldn't find in others. I liked the good times that they got to spend together, but a lot of the time I found myself hating Finch's family for not realizing that he had serious problems. I suppose it would have been a different story if they had been a supportive family.
It was nice to read about Violet's life
after.
She didn't revert back to the way she was before Finch and I admired her strength. I'm glad that she continued to live her life like he pretty much taught her to. Even though she'd lost a lot she still managed to try and reach out to others and continued to grown in herself, too. (I do love personal growth.)
This book was definitely emotional and I know that it won't be for everyone. Niven's explanation of why she wrote it is sad and honest. It adds to the depth of Finch and Violet's story and hopefully lets others who are struggling know that they are not alone.
Absolutely a good read...not for the fainthearted.