(Review) Tiger Lily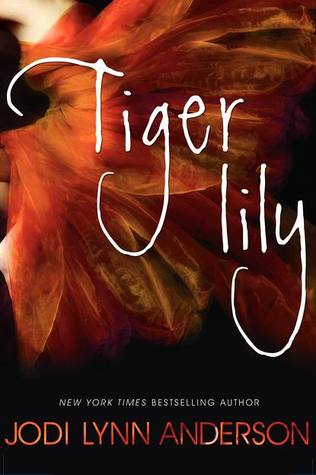 Tiger Lily by Jodi Lynn Anderson
Publication Date: 2012
Pages: 292 (Paperback)
Genre: Young Adult
My Goodreads Rating: 4 Stars
Goodreads Synopsis:
Before Peter Pan belonged to Wendy, he belonged to the girl with the crow feather in her hair...

Fifteen-year-old Tiger Lily doesn't believe in love stories or happy endings. Then she meets the alluring teenage Peter Pan in the forbidden woods of Neverland and immediately falls under his spell.

Peter is unlike anyone she's ever known. Impetuous and brave, he both scares and enthralls her. As the leader of the Lost Boys, the most fearsome of Neverland's inhabitants, Peter is an unthinkable match for Tiger Lily. Soon, she is risking everything—her family, her future—to be with him. When she is faced with marriage to a terrible man in her own tribe, she must choose between the life she's always known and running away to an uncertain future with Peter.

With enemies threatening to tear them apart, the lovers seem doomed. But it's the arrival of Wendy Darling, an English girl who's everything Tiger Lily is not, that leads Tiger Lily to discover that the most dangerous enemies can live inside even the most loyal and loving heart.

From the New York Times bestselling author of Peaches comes a magical and bewitching story of the romance between a fearless heroine and the boy who wouldn't grow up.
My Review:
I requested this book purely on a whim (and from stalking
Goodreads
, of course) and was pleasantly surprised by it. I love retellings of classic stories and fairy tales and Peter Pan is high on my list of favorites. Sometimes I relate better to more obscure characters so I was really excited to read about Tiger Lily.
Thinking back I know there was definite animosity toward Tiger Lily when I first watched Peter Pan because
of course
Wendy is the heroine of the story.
This book changed
all
of that for me.
Tiger Lily's story is, of course, tragic. She was found and brought up by Tik Tok, the Sky Eater's shaman and is pretty much bullied for much of her life. Until one day something terrible happens to a girl who bullied her and from then on people tend to stay away. Tiger Lily isn't like the other girls in her village. She'd rather hunt than sew, doesn't care about her appearance, and is fiercely loyal to those she loves.
We first seen Tiger Lily's main differences in the way that she helps a shipwrecked Englander because the rest of her village is afraid of getting the aging disease they believe outsiders bring to Neverland. Tiger Lily is relentless in her crusade to nurse the Englander back to health but, while she's focused on him, she doesn't notice that Peter has found her.
Peter Pan is infamous on Neverland for being a brutal killer, which isn't entirely untrue. So, naturally Tiger Lily is apprehensive about him and the lost boys. Tiger Lily doesn't really say much, but when she does it's exactly what she's thinking. She holds nothing back, doesn't care what anyone thinks about her, and is completely herself...no matter what.
Oh, I forgot to mention that this book is entirely told from Tinker Bell's point of view. The good thing about this is that Tink can pretty much hear and feel what other people are thinking and feeling, so there are really no secrets in the book. Of course, Tink can't talk so she isn't exactly privy to tell anyone's secrets, which is good.
There are a lot of things I could wax poetic about this book, but mostly it's about how awesome Tiger Lily is. There are pirates and betrayal, death and love. This book has everything all wrapped up in a fairy tale. I love the relationship Tiger Lily has with Tik Tok, and how she accepts him just as he is. How she loves Tink and Pine Sap, her only friend from the village. There's something special about the way she feels about Peter and, when it all comes crashing down, you will feel her wrath and pain like it's your own.
I'll admit to tearing up at the end of the book reading about Tiger Lily overcoming a huge obstacle that had settled into her village and learning to let go of something else she held dear. I won't spoil that for you, though. You'll have to read it for youself.
Also, this review probably did not do this book justice. I just have a lot of feelings about it.