(Review) Saint Anything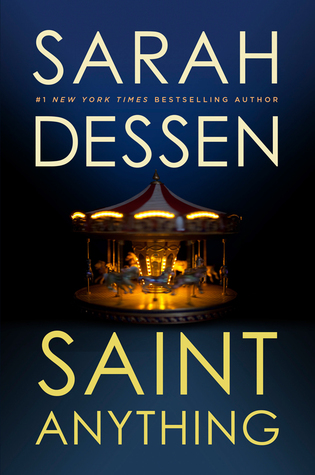 Saint Anything by Sarah Dessen
Publication Date: 2015
Pages: 417 (Hardcover)
Genre: Young Adult
My Goodreads Rating: 4.5 Stars
Goodreads Synopsis:
Peyton, Sydney's charismatic older brother, has always been the star of the family, receiving the lion's share of their parents' attention and—lately—concern. When Peyton's increasingly reckless behavior culminates in an accident, a drunk driving conviction, and a jail sentence, Sydney is cast adrift, searching for her place in the family and the world. When everyone else is so worried about Peyton, is she the only one concerned about the victim of the accident?

Enter the Chathams, a warm, chaotic family who run a pizza parlor, play bluegrass on weekends, and pitch in to care for their mother, who has multiple sclerosis. Here Sydney experiences unquestioning acceptance. And here she meets Mac, gentle, watchful, and protective, who makes Sydney feel seen, really seen, for the first time.
My Review: Ugh, Dessen kills me every time. I've been working my way through all of her books for about a year now and it seems like every one hits me harder than the last.
Sydney has always felt invisible in her family and now that her brother is in jail it only gets worse. Things look up for us when she switches schools, but her mom is so controlling that it's hard for Sydney to have her own life.
What I love about Dessen's work is that she writes such good supporting characters and easy relationships that it's not hard to get sucked into a story. Sydney immediately meets Layla, who is friendly and charismatic. They become fast friends and Sydney is pulled into their great easily. A group that includes Sydney's brother Mac.
Another thing I love about Dessen is the slow build with her romantic relationships. It's so common with YA novels to have a meet-cute and then people are instantly in love. (Let's be real, it happens in adult novels also.) Mac and Sydney start out as friends and you get to watch their relationship grow that way. I mean, it takes 300 pages, but it's totally worth it.
Mac and Layla are so great for Sydney in so many ways. They make her feel like she matters, keep her safe, and stick up for her. Seriously, everyone should have friends like them. There are so many things going on with her family that Sydney just gets lost in the shuffle, but with Layla and Mac she belongs.
It's interesting to read the contrasts between Sydney's family and the Chatham family, and learning things about each character. I really enjoyed Mac's story because so often the heroes are jocks and golden boys, but Mac has truly worked hard to be what he is. I love when he shares that part of himself with Sydney and you see their relationship begin with that.
It's so cute.
The only few things I didn't care for were Sydney's mother's attitude and Peyton's (the incarcerated brother) friend Ames. Sydney's mother really has no cause to treat her the way she does. It gets a little redundant and annoying after a while. I also disliked the mother's relationship with Ames. Ames is a total creep and gets what he deserves in the end, though.
Sarah Dessen continues to be one of my favorite authors. Now I just have to finish up the rest of her stories! ;)